CLUB SERVICE
Valerie Jackson, Director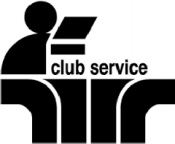 Club Service focuses on strengthening fellowship and ensuring the smooth functioning of Rotary clubs. A balance membership is maintained by adhering to Rotary International's classification principle.
The classification principle categorizes members by the work that they perform, and limits all clubs to no more than five members from any one classification. For example, a club may have no more than five doctors, five lawyers, five retail merchants, five librarians, etc. This principle prevents any Rotary club from becoming an association dominated by a single group of professionals, and keeps the membership broad-based and diverse.
Membership in Rotary is open to business and professional leaders whose work fits in an "open" classification and who have been invited to join the particular club. Members live or work in the community represented by the particular Rotary club, or in a contiguous (bordering) community. For our club, that means we welcome members from Plainfield, North Plainfield, South Plainfield, Fanwood, Greenbrook, Piscataway, Scotch Plains and Edison.
Prospective members are normally specifically invited to attend a regular meeting by a club member as a way of introducing that person to Rotary and its ideals, and more specifically to meet other members of the club. In some cases, clubs extend an open invitation to people to attend a meeting for those same purposes. In either case, the prospective member must receive an invitation to join before becoming a Rotarian.